To many new to the idea of zero waste, they tell me, "Oh, that sounds great, maybe one day I'll become zero waste when I have more money."

But zero waste isn't expensive and for most things it doesn't cost any money, or if it does, it's hardly anything - we're talking $10-$15 tops for the average investment - in something that will last for years and you'll never have to buy again. So how can you go zero waste when you don't have a large budget set aside for it? And what items are top priority to purchase when starting out and then what items can you slowly build/save up to?

Straws

The first item I always recommend to those going zero waste is reusable straws.

There are so many types of reusable straws on the market, especially on amazon. There's stainless steel ones, silver, colorful, bent, or ones with

silicone tips

so it doesn't hurt you or your kids' teeth. There's glass straws, that I have, which can break (I have broken one, but I've dropped them many, many times and had them not break, but be careful or get/make a

cool sleeve

to put them in), but I prefer the feel and look of them. There's bamboo straws, too. All for under $15, depending on the type and amount you want. Straws are easy to refuse and do without, but when you have a frappuccino or Icee, it's hard to drink without a straw.

Straws are horrible to animals

so please purchase these and begin saying, "water, no straw, please!" at restaurants. This may not save you any money in the long run because you don't pay for them at restaurants, but it's such a small amount to make the largest zero waste impact on the planet.

Shopping/produce Bags

If you don't already have reusable shopping bags, I highly encourage you to get some. They're very affordable, especially at grocery stores, and you'll begin earning money back every time you use them! They'll more than pay for themselves in a matter of months. Produce bags is also a definite must. Most recycling centers won't accept these stretchy plastics, but you can recycle them at grocery stores like Target, Walmart, and Earth Fare. But not all of the plastic is recyclable, so invest in some

reusable produce bags

.

Wool dryer balls

This is the best thing you'll do for your pocket book. You can buy wool dryer balls on amazon, World Market, or sometimes your local farmers market if you're lucky. They last at least 10 years and you never have to buy another dryer sheet ever again! It's a win-win! So use up your dryer sheets, and then instead of spending money on your next box, just buy $10 balls and then never have to remember to put in a dryer sheet again!

Water Bottle

Why buy lots of water bottles from the store when you can reuse a water bottle? You can fill it up in your sink or your water filter and keep it in the fridge. I have multiple in case I get low at any time.

Cloth everything

Tired of having to spend money on paper towels, napkins, toilet paper, tissues, pads/tampons, etc etc? You can get all of these in cloth (try to avoid microfiber and use 100% cotton or linen to avoid plastic leaking into the ocean) and never buy anymore again! (Well, I still buy toilet paper every few years because of guests) I have lots of links in my

first zero waste post

. Hygiene items are always tough to get our minds around, and I was hesitant at first, but after finally trying them, they're my favorite zero waste item. I feel luxurious with my family cloths and cloth pads (diva cups if you're into tampons). Give it a try! What have you got to lose? Wasting money, that's what!

Food

Reuse your food! The bottoms of chives and romaine lettuce and so many other veggies you use can be put in a cup of water and regrown over and over again! How neat is that? Never have to by chives again!

Razors

Disposable razors and even men's razors are SO expensive. Switch to a safety razor. It hasn't cut me once yet (and disposables did all the time) and only replace the blade. It'll save you more money than all of the above! The razor itself is cheaper than replacing your husband's blades.

Makeup Wipes

Use a

konjac sponge

! It is a natural sponge found in Japan and it will change your world. Sometimes I find them at TJ Maxx, Amazon, Whole Foods, or Earth Fare. Say goodbye to having to purchase makeup remover wipes every month! If you prefer wipes, you can buy reusable

makeup wipes from Creekside Kid

that are so soft and luxurious and it'll save you money, you'll never go back. They're the ones who also make the family cloths I use. Also, if you get a konjac sponge, don't buy into the marketing. The colors don't matter or do anything different.

DIY

There's soooo much DIY out there that you can use essential oils for. Make your own bath bombs, lotion, lotion bars, lip/body sugar scrub, face masks, oils instead of moisturizer for your face, etc etc etc.

I have a DIY board

that can help jump-start your DIY journey. When you make it yourself, you're using fewer ingredients, so that means no chemicals and you know what is going into it. I love having shea butter, beeswax, coconut oil, and lavendar essential oils to make all my DIY. No harsh chemicals, no "fragrances" that are bad for you, and it's baby safe, too. You can use it on any part of you. DIY cleaning products are great, too! Just be sure not to use

vinegar on granite

or mix baking soda or vinegar with hydrogen peroxide,

as these will cancel each other out

. You also

don't ever want to make your own laundry detergent

. Many people say to use

Baking soda and vinegar

together but it actually doesn't really do much.

Toothbrush

I hesitated on whether or not to add this to the list. It may be a little on the pricier end and not save you money, toothbrushes are so bad for our landfills and bamboo can be composted. This would still be on the bottom of the list because of the price, but I'd make it a priority of your beginning journey if possible.

These are the most affordable and easiest items to swap out or purchase that will save you lots of money in the long run and make the biggest impact. What items did you buy for the beginning of your journey?

I make no money off of any links or purchases. These are purely my own opinion.
Powered by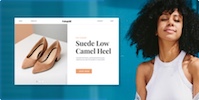 Create your own unique website with customizable templates.