Wikipedia

(and it is the final authority after all) defines complementarian as "

a theological view held by some in Christianity, Judaism, and Islam

that men

and women

have different but

complementary

roles and responsibilities in

marriage

,

family

life,

religious leadership, and elsewhere."

There is a scale of beliefs and I don't think many people fall in the same place on that scale. The scale goes like this

Feminism > Egalitariansim > Complementarianism > Patriarchy

Feminists and Egalitarianists have a habit of looking at Complementarians as Patriarchists, which is far from what they are. And Complementarians like to push Egalitarians into the Feminist camp, which is also untrue. It's a very long scale and, as with many people and disagreements, some like to make extremist and ignorant comments about people who believe differently than they do.

Egalitarians are usually also belonging to a faith but believe that women can be pastors, can lead the home with their husbands, can work outside of the home full time, etc. I kind of fall between Complementarian and Egalitarian. When I read Proverbs 31 and see a woman who works hard with her hands, buying land (without even consulting her husband) and working out there in the field and then going into the marketplace (wait... I thought the woman's role was in the home) and selling. Her husband sits at the gate and is respected among all the men (He should be in the field working as the fixer-upper, though!).

But enough of the past, how do I live as a Complementarian? Well, I work outside the home when I don't have kids and we need the money. I also believe in being submissive to my husband and what he asks of me, which right now is working full time, and I'm happy to do so. I don't have an entrepreneur bone in my entire body. Making my own hours, figuring out legalities and accounting stuff for starting my own LLC, etc. I honestly cannot think of a more horrific scenario. I'm also not crafty. Like. At all.

I want to back up for a moment. I used the word "submissive" because that's what we Complementarians like to use. There's a lot of debate over this, but I think it boils down to the connotation modern day puts on the word. Patriarchists have ruined the word to mean "obedient". If you've read any Christian book on marriage, you'll know it simply means to respect, honor, and take your husband's wishes into consideration with considerate weight. That doesn't mean if he wants you to sin or commit a crime, or do something completely against your beliefs that you should just roll over like a doormat. It means you respect him enough to listen, take him seriously, and even choose his requests above your own wishes in big things. For example, I didn't ever want to move, but my husband really did. Then God let everything fall into place and a job contacted him and said they wanted him to apply and they'd pay to relocate to one of the three cities we had been thinking of moving to. I knew that God was calling us and Sam's desire to live somewhere else for a short time trumped my desire to stay in one place forever. So I laid down my desires for that of my husband's. The Bible also says for us to submit ourselves one to another. That doesn't mean other people run my life, but that I give heavy weight to the input others have in my life because they can see blind spots that I can't so that I can improve my life. However, in order for me to actually take their criticisms to heart, they need to build rapport with me and help me in a loving way that shows they only love me and want what's best for me. It should be the same in marriage.

However, when it comes to things inside the home that I'm good at: cleaning, decorating, organizing, my husband allows me the room to do so. This is where the patriarchy greatly differs. He doesn't control my every desire and whim. When I want to save up and drop a ton of money at The Container Store (I'm sure this was where The Garden of Eden was), He goes with me (because I asked him to and he enjoyed looking at stuff too) and allows me to get whatever I want, trusting my skill-set to make the home a better nest for us. However, he shouldn't trust me to make clothes, because I can't sew to save my life, so I just go to the store and tailor. But it's also doing things with a good attitude and to the best of your ability. Maybe cleaning isn't fun to you (I'm weird, I enjoy cleaning), but put on some music and sing and dance and thank God for each item that you're cleaning, that you have something TO clean. Keep your house running to the best of your ability, but don't compare yourself to others. If your husband asks you to clean it a little more, then work a little harder at it. But also give him realistic expectations if you have children. Give your husband and children realistic goals and set your own expectations right, as well. I think we as women have this trouble more than men do. We can be so type-A when it comes to our house looking perfect and our kids leaving stuff everywhere and our husband not throwing his socks in the hamper. But when that happens, just stop and remember this is your ONLY life on earth. Your only chance to live. Do you want to waste any moments screaming at people because they didn't hit your exact expectations 100% of the time? Is yelling going to help? It's ok to have frustrations, it's ok to be human and yell sometimes, and it's ok to get angry. But make some tea, go outside, put on some music, and make a chore list if it's important to you. Make it realistic, fun, and have lots of grace. Make it a game for your kids so they don't feel like they're being attacked at school by kids and then attacked at home. Make home a fun place to be. A resort. An escape. Your own private island. Your husband's secret place. A place of rest. A place to play and be messy and let socks sit on the floor and toys line the halls. And then, every few days, have a big clean-up day together. Make it a family activity where everyone pitches in. Don't carry the load alone. Delegate, but do so realistically and happily. Keep a cheerful expression and tone when you can. Remember: As the woman of the house, you set the tone of the home. What tone is your home now? What tone would you like it to be? The bad news is the difference is because of you. The best news ever is that YOU have the power to change it TODAY! But allow yourself days to mess up, as you allow your kids days to mess up, too.

But back to Complementarian. Sometimes Sam wants me to drive for him so he can take off his shoes and relax after a tough day/week at work. Sometimes he wants to drive to church. It's not about "The man has to drive because he's the head of the household." No, I'm his helpmeet. Therefore I help wherever I can. Whether that's unclogging a drain, fixing a leak in the toilet tank, driving the car, buying a ladder at Lowes and hanging curtains, or scrubbing the tub and making dinner, it's all the same. Even if it's going to work from 9-5 for awhile to save for a downpayment. I am helping him. It's not about what you

do.

It's about your

attitude.

The Bible talks about having an attitude of servanthood.

Ephesians 521 Submit to one another out of reverence for Christ.
22 Wives, submit yourselves to your own husbands as you do to the Lord. 23 For the husband is the head of the wife as Christ is the head of the church, his body, of which he is the Savior. 24 Now as the church submits to Christ, so also wives should submit to their husbands in everything.
25 Husbands, love your wives, just as Christ loved the church and gave himself up for her 26 to make her holy, cleansing her by the washing with water through the word, 27 and to present her to himself as a radiant church, without stain or wrinkle or any other blemish, but holy and blameless. 28 In this same way, husbands ought to love their wives as their own bodies. He who loves his wife loves himself. 29 After all, no one ever hated their own body, but they feed and care for their body, just as Christ does the church— 30 for we are members of his body.31 "For this reason a man will leave his father and mother and be united to his wife, and the two will become one flesh." 32 This is a profound mystery—but I am talking about Christ and the church. 33 However, each one of you also must love his wife as he loves himself, and the wife must respect her husband.

Paul is talking more about the relationship of the church with Christ, not teaching on the marriage relationship. He's using the marriage relationship as the example that we know. But these days we've got it so confused and messed up, we flip it the other way so we can figure out how our marriage should be. Which is fine, just not the original intent. So how does the body and Christ interact? Did Jesus come down to earth and take on flesh and overthrow Caesar, burn the tyrants to the ground, demand respect and honor from the church, tell them they'd better submit? Or did Jesus come as a servant, born in a lowly manger to a carpenter? Did He wash the sheep droppings off his disciples' feet like a servant? Did the church insist their righteousness was just as good as Jesus' (or was it like filthy rags)? Did they compare themselves to how awesome Jesus was? Did they insist on doing things their own way and that they're always right? Did they insist on equality with Him? Did they feel degraded when they felt like they weren't equals? No. As a Christian we would never assume we are equal with Jesus, and yet we are still important, beautiful, loved, valued, listened to. Jesus washed us as if we were superior to Him, He died for us, He laid down His life to serve us, He treasured us. When people think women should just roll over and do whatever the husband says as an excuse to push their wives around, they have a warped sense of marriage and also of Christ.

In Ephesians, it instructs us to have the same relationship with Jesus as we do in marriage, but also with friends, our brothers in Christ, our parents (in chapter 6), our bosses and employees and coworkers, etc. The relationship is that of servanthood. To not consider yourself higher than anyone else. To treat waiters, hotel and work cleaning ladies, the guy bagging your groceries and pushing the carts at the store - everyone as if they were the president of the united states. Because we are all humans created in His image. Titles are man-made and silly to God. They mean nothing to Him. One day we will get to Heaven and not remember what title others had, but we will remember who they are. They are children of God, with a Spirit and a soul. And we should always treat them that way. Including your spouse and children.

So I don't think people grasp the meaning of complementarian or submission in the full meanings. I think we have different roles in the home, but that doesn't mean Sam doesn't help me with the dishes every now and again and that doesn't mean I can't make money. :)

"What can you do to promote world peace? Go home and love your family."
Powered by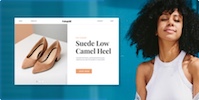 Create your own unique website with customizable templates.