Yeah, sure I'm weird and sarcastic and I like to make the most offensive jokes and insults about people to my husband when no one is around. But that doesn't mean I'm not kind.

My favorite movie is the live action Cinderella. HAHAHA ok, no I can't lie. It's Star Wars. But Lily James' Cinderella is definitely in my top 5. The morals are the best of any movie. Forgive. Have courage and be kind. This has become my trademark. I hope for it to be my eulogy. To me, there's nothing greater. All of those things are basically what love is. An action and a choice. And if we can't be kind to everyone, then what's the point in all of this, anyway?

Powered by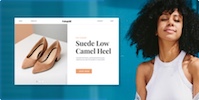 Create your own unique website with customizable templates.